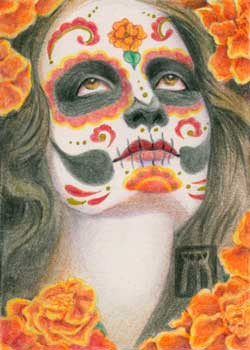 ACEO stands for "Art Cards, Editions and Originals".
They are miniature pieces of art also referred to as artist trading cards. They measure 2.5 x 3.5 inches, the same size as a regular playing card or baseball card, and they just as collectible.
Collecting these little gems of original art has become a passion for many people. They collect by both subject matter and by artist. There are galleries that have ACEO cards exclusively.
What's old is new again.
Small paintings are not new. Miniatures were done in Victorian times before photography was common. You can find many tiny portrait masterpieces in antique lockets.
Often an artist will spread on painting across several cards set up in a grid. This works very well when they are all framed together, or placed in a sectioned loose leaf sleeve that is designed especially for collectible cards.
To see my current ACEO cards click here.