What are Artists' Proof cards?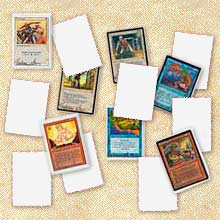 They are also called "white backs" because the back of the card has no printing on it. This was done so that we could add our business information, or use them as promotional leave-behinds for Art Directors after an interview. It acted as a tear sheet, or proof that we had been published.
The quantity of each individual card image varies. But usually, only 50 copies of each proof card exists. As Magic grew in popularity, the Artists proof cards became a sought after collectible commodity. As more editions are printed these 50, especially from the earlier sets, become rarer which makes them more valuable and more expensive.
To see the Proof Card List click here. Email me with any questions or to verify availability.
To purchase proofs, go to the "Buy your Artsits' Proof Cards Here" page and choose the card(s) you want. Take advantage of the quantity discounts on complete sets, and you'll save some money. By the way, you can have 15 of your own cards signed for every artist proof card you buy.
Now, let's save you some money.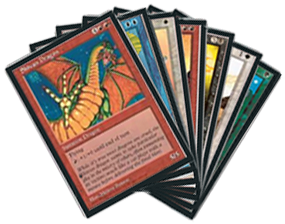 All Artists' Proofs bought individually are $50.00 each, regardless of image.
Buy a complete set and take off 10%.
Buy two complete sets and take off 20%.
Buy three complete sets and take off 30%.
Buy four complete sets and take off 40%.
Please make out personal checks, money orders or International Postal Money Orders to: Melissa Jacouzzi
---
Sketches or paintings on the back.
Many fans have asked for sketches on the back. I am happy to say that thanks to Margaret Organ-Kean, I have obtained a coating that I can apply to the backs of the cards that make them suitable for sketching and painting.
These commissions are an additional $30.00 per card for a sketch, or $40.00 per card for an oil painting with a minimal background. The volume discount available for purchasing multiple sets of cards at the same time applies to the cards only. It does not apply to commissioning artwork on the back.
---
The fine print:
All sales are final / Cards are sold "as is" / Payments other than PayPal (Personal check, Money order, International Postal Money Order made out to Melissa Jacouzzi) must be in United States funds drawn on a United States Bank / Certificate of Authenticity will be included / Payment must be made in full before cards are shipped /Installment payment options are available.
---
Magic Artists' Proof Card Gallery
The Artists' Proof Card gallery is ongoing, but you can get a sneak peek here.
---
Altering cards.
I've also been asked to alter cards. I've got to say that I don't get why anyone would want a tiny little card image changed. I designed them to look a certain way. The only thing I have altered is to add wings on my Cloud of Fairies card with a thin marker. This being said, I am currently experimenting to see if I can do augmentations on the front of the cards.