For one thing, original art is an investment that you have an emotional connection to, or that moves you in some way.
Art isn't a dead commodity. It's very personal. Art will bolster your spirits while you wait for things to get better. And in good times will give you cause to celebrate.
Some people have a great desire to own or collect pieces of original art. They are drawn to images that speak to them or remind them of past experiences. Or they simply want something beautiful to look at.
There are also people who enjoy knowing that they have something no one else has. If this sounds like you, then I have some beautiful art to offer you for your collection.
Art from Collectible Card Games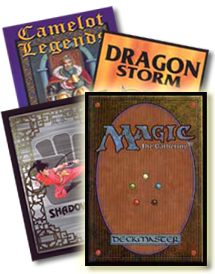 Camelot Legends

Doom Town

Dragon Storm

Galactic Empires is sold out.

Jyhad

Magic: the Gathering is sold out.

7th Seas

Shadowfist

Star of the Guardian and Warlord.
Cover Art & Spot Illustrations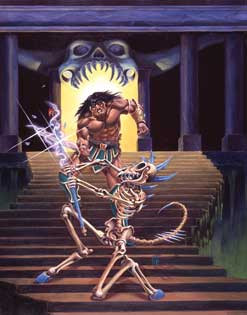 These pieces in the Cover Art & Spot Illustration section are not framed, but I can always get an estimate for you. The framer I use is excellent & reasonably priced. This section includes:
Cover art for gaming rule books

Magazine covers

Spot illustrations

Convention & programs.
---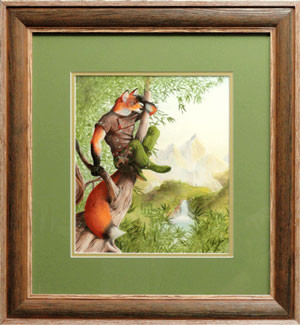 The framed piece here is titled Trailblazing. It is art from the RPG "Dragon Storm".
The pieces in this section are matted and framed with archival materials. They come to you ready to hang. All you need is a nail and a place to put it.
Nothing compares to opening up a package and directly hanging a piece of art you love on the wall. Open, hang, enjoy. Simple.
All the framed pieces here show off the creativity and talent of Master Framer Jason Orenstein of Framer's Edge in Orange CT.
---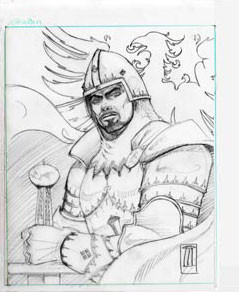 Is seeing "the process" more your thing?
In this section, you can see the process from the thumbnail drawings and sketches to the final piece of art.
This section contain sketches, pencil roughs, pencil overlays and the occasional color study. There is also art that didn't get finished for one reason or another.
Sketches are not matted or framed. People often like to frame sketches of gaming art with the cards. I can have this done for you if you like. The framer I use is excellent & reasonably priced.
The sketches are mostly from gaming at the moment.
---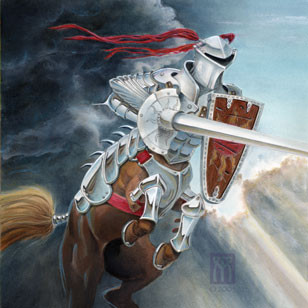 These pieces were created using Dr. Martins dyes and Berol Prismacolor Pencils.
The dyes were used for their intense color saturation. The colored pencils are used to pick up the details.
Until I found the D'Arches Oil Paper, this was my go-to method of creating art.
---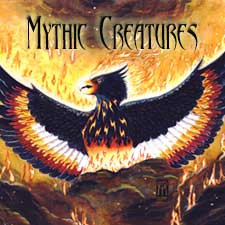 The Mythic Creatures Collection was commissioned many years ago by Kabouter Press. They are the same people who put out the Gnome calendars every year.
Each piece was designed to be removed and fit into a standard 11 x14 inch frame when the year was over.
The original art for this project measures 15.5 x 12.5 inches. They were done in Dr. Martins dyes and Berol Prismacolor Pencils. Some of the original art is still available for sale.
---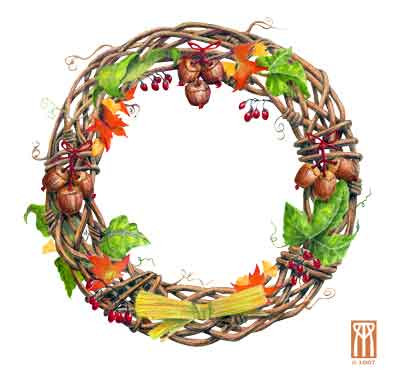 Paganism traditions are full of fantastic stories and imagery.
This section will show you illustrations on many of those stories.
There isn't enough quality artwork in this genre, and I am doing my part to make it more main-stream.
---
And when you find the piece you like
Send an email and it will be set aside for you.
When you purchase the painting, you will receive two copies of the Bill of Sale with an SASE. Sign one copy and return it if you are paying if you are paying by check.
You can pay with PayPal, personal check, Postal Money Order or International Postal Money Order. All personal checks have to clear the bank before your artwork is sent, & all funds must be in U.S. currency drawn on an American Bank.
Installments are common and are available on art over $300.00. Installments must be made every month until the piece(s) is paid in full. Otherwise, any discount that was given is forfeit and the full original price is due. Any deals not completed after 3 months of missed installments are void, and all monies paid are forfeited.
So go ahead and browse. If you have any questions, drop me an email.
---