Day of the Dead Montage print
Nov 19, 2016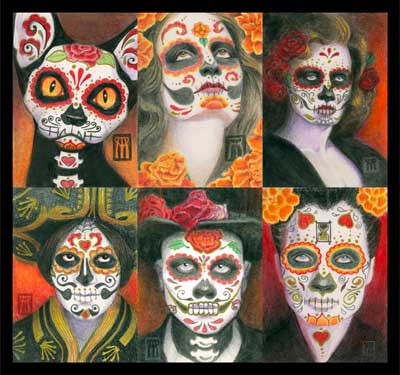 You all know that I issue ACEO card art challenges to my local art guild. The cards I created for the Day of the Dead challenge were well received, so I floated the idea of making them all available as a print. The idea was enthusiastically received so here it is.
I learned a lot about the Día de Muertos celebration and the symbolism that goes along with it during my research. I didn't know, for example that marigolds are put out to attract the souls of the dead with their scent, or that children have a separate day to themselves. Some people find it creepy, but I find it a wonderful way to remember and honor those who have passed.
All of these images are available individually as prints, and on t-shirts, greeting cards and more from my Zazzle shop Nightmareartist.