Juniper Tom - May's Creature of the Month
May 29, 2018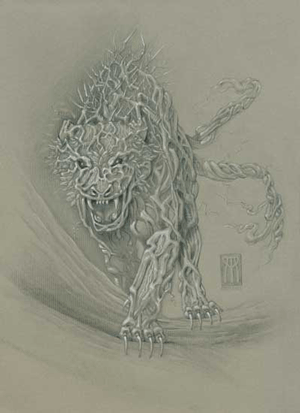 The fine folks at Kängtrollspel asked me if I would create a drawing for a character that Jesper Myfors created. Of course, I said yes. I always enjoyed working with Jesper in the day.
Kängtrollspel is a game developer. The illustration is for their blog that gives away freebies. They have produced the games "Nattens Varelser", a gothic horror game, and "Action!", a 70s and 80s action rpg.
The site is in Swedish, and you can download a copy of Jesper's text and my drawing as a PDF. Look for "PDF: Månadens varelse - maj", and click for the article.
Here is an excerpt of the description in Jesper's words. "Juniper Tom is the physical manifestation of a vengeful nature spirit that after losing much of its forests to human development seeks revenge on those who harmed it."

HOW could I turn this down?