Vital Reasons to make Pagan Art Mainstream
Nov 08, 2016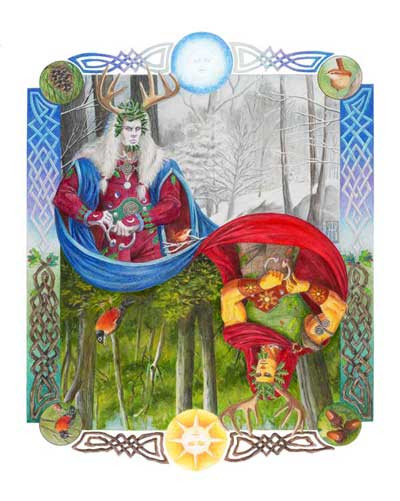 This piece features the Holly King and Oak King. They battle on the Summer and Winter Solstice for dominance of the earth for the following 6 months. This metaphor explains the lengthening and shortening of days.
---
The imagery is rich. The stories colorful. The symbolism ubiquitous. Look around you, and if you're paying attention, you'll recognize that it really is time to get back to Nature. Past time in fact. Polluted air, plastic islands in the oceans and global warming must be addressed.
Being respectful of our planet, and being mindful of the consequenses of our actions, is vitally important to us all no matter what your position is on religion. There is no better torch bearer for this paradigm than Earth-based religions where these principles are a priority.
People need to stop, and take a moment to admire the beauty of Nature and reflect on the deeper symbolic meanings present in Pagan art. Appreciate the colors, feel the textures and smile as you become more attuned to your surroundings and more aware or what is, in reality, most important in life.
People should be more aware of their surroundings. The seasons. The passing of time. People need and deserve to look at art that makes them feel positive, happy and hopeful. This is the kind of art I strive to create in my Pagan pieces.
Here are some originals and prints I have available for sale in the Pagan Art Gallery here on the website. And visit the "That Pagan Artist" shop on Zazzle for holiday greeting cards, altar accessories, customizable t-shirts, and jewelry. Just doing my part.