---
Commissioning Art from your favorite artist.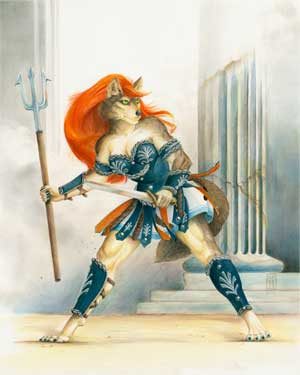 Commissioning a piece of art, it is an investment because you control what the end product will look like. It is uniquely your own vision translated onto paper through the skills of an artist's hand.
I do a lot of commissions. My specialty is anthropomorphic creatures and people in natural and historic settings. Many clients want portraits of their role-playing characters to show-off on gaming night.
I have done conceptual commissions for masons to show clients who want a concept drawing. I design the mason's wall, fire pit, or driveway so they can better visualize the project. As an extra bonus, they have a piece of art featuring their house.
This page will guide you through the process of commissioning an artist for a special image.
---
Here is what your Artist needs to know.
If you have the following information ready, the process will go smoothly and quickly.
---
1. Black and white or color? Each has its own feel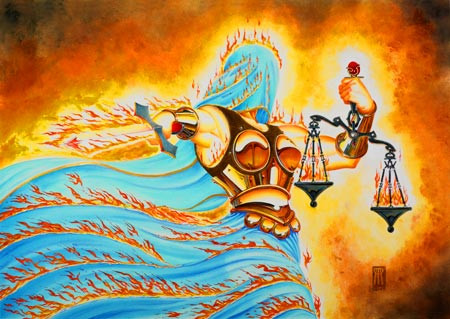 Decide if you want your piece to be in black & white or color. Choose black & white for making a dramatic statement that can be very detailed at a small size.
This isn't to say that it won't help the artist to know what color things are. Blue eyes are a different shade of gray than green even in black and white.
Color in a piece lends depth and reality to an image. It also conveys a broader range of emotion better than black and white will. In general, we relate to, and "feel" color images more. If you want something very subtle or very over the top, then go for color.
---
2. Background or no background? It isn't always needed.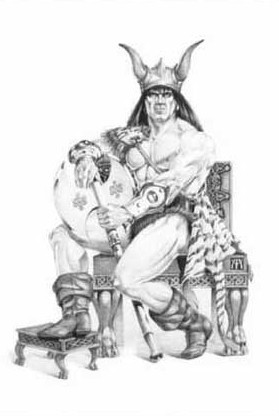 Not every image needs to have a background. This is especially true of portrait work whether it is black and white or color.
Another option is to add a graphic image in the background that relates to the subject. It could be a flag behind a political figure for example or a pair of crossed swords behind a knight. It could also be a pattern that is either simple or complex.
3. What size do you think you want?
This is the single factor that influences the price most.
Size is the most influential factor when determining the price. And the reason for that is;
Time.
The larger a piece is, the more time it will take to complete. Likewise, the more detail and the more "stuff" you want to include in your piece, the longer it will take to complete.
Not all pieces look good small, and not all pieces look better large.
The subject and the effect you want will often suggest the best size. A portrait for an opera house ought to be large, while a miniature portrait's small size is far more intimate.
---
4. Framed or unframed?
All commissioned art should be framed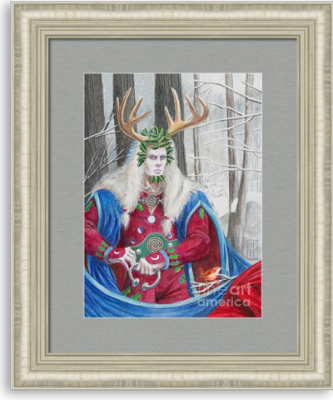 This can be done by the artist or the artist's framer. These are the two people who have the biggest stake in making you happy. The frame should be an extension of, and a complement to the painting.
If you think you will do it yourself, be realistic. The longer you wait to do it, the less likely it is to be done. Don't put it off.
The only time framing ought not to be done is when a finished piece is being shipped. This is especially true for shipping overseas where the extra weight can make the cost prohibitive and the chance of damage far greater.
Receiving your piece framed alleviates the delay of hanging which isn't good for the art and devalues your investment.
Wasn't showing it off to everyone the idea in the first place?
---
5. Know how much you want to spend.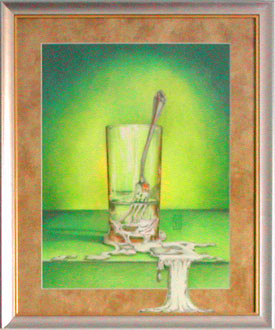 As you have seen, there are many factors that affect the price of a piece. One approach is to tell the artist how much you are willing to spend. The artist will manipulate the size, complexity, etc. so that you can get a quality job within your budget.
Another approach is to tell the artist everything you want to see in the commission. Then ask for an estimate with your "want list", and see what figure comes up. The artist will usually give you an estimate with a variety of sizes to choose from. You can pick one or you can ask the artist for suggestions on how to get the price in a range where you feel comfortable.
For example, you can get the cost of a piece down by changing from a full figure image to a waist up image of the same size. Or you could keep your full figure and simplify or eliminate the background. Or you could keep everything and go to a smaller size.
Don't be afraid to ask if you can make installments on expensive commissions. It is a common practice. Be prepared to pay at least one-third of the total up front. Then, one-third half way through, and the final third when it is complete unless the two of you agree to another plan.
When I have an installment plan, I ask for consecutive monthly payments for as long as it takes to complete. The art will ship once your payment is complete.
---
More on the time factor and how it affects the price.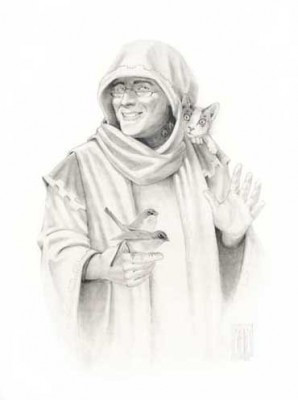 Imagine writing your name on a piece of paper that is 8 x 10 inches. No problem, right? It's quick and easy and looks good without making a fuss.
Now write your name on a piece of paper that is the size of a postage stamp. This takes a little more planning, more effort, and more attention to make it look good.
For a more relevant example, let's say that you want a special ring on your subject's portrait commission. If the artwork will be 18 x 24-inch piece, this will not likely be a problem. If the artwork will be 8 x 10-inch piece, it's another story.
The solution? Let's say that the 8 x 10 estimate is in the budget, but you really want to see that ring clearly. You can have the figure done at a closer view. Say, from the waist up as opposed to a full figure from head to toe. Or, you could have the ring done as a graphic in the background.
With creative inventiveness, there is almost always a way to get the job done within the budget.
The thing to remember when commissioning art, is to know what elements are the most important. Set your priorities so that you can relate to the artist what must be in the picture. What is modifiable, and what can be dropped if necessary.
With this information in hand, you are ready to contact your favorite artist with confidence and say "I would like a commission".
Email me with any questions you may still have and I'll get back to you in 24hrs